We are so excited to be serving so many of you in person again!
Santa Clara County health officials have lifted restrictions on children's educational, recreational and camp activities (eff. 6/5/20). Also, as of the week of March 15, 2021, the CDC has adjusted the guidelines for safe social-distancing between children from 6 feet to 3 feet. Accordingly, we published our simple plan for gradual return and have already enjoyed so much seeing some of you again!
HOW DOES IT WORK?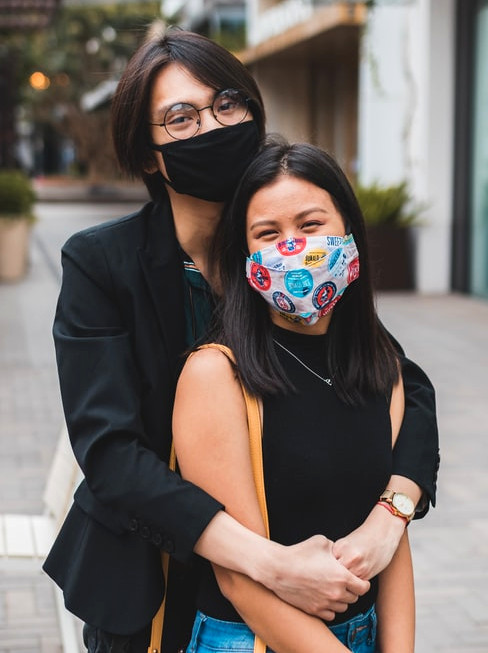 When parents and their children are ready to meet in person, our staff and facilities are prepared for you! We are enjoying seeing familiar faces as many have already joined us in person. We have missed seeing you!
We are not only following all county guidelines, but we are doing even more to help keep your family safe. As you return, here is what you need to know:
Visitors are required to wear masks

with the following state or county specified exceptions:
Persons who are outdoors and maintaining at least 6 feet of social distancing from others not in their household.
Children under the age of two, and
Those who have trouble breathing, or
Those who are unable to remove a face covering without assistance
Persons who are obtaining a service involving the nose or face for which temporary removal of the face covering is necessary to perform the service.
Hand sanitizing is required

for all who remain in the building (i .e., students) at the check in station. Disinfectant wipes, rubber gloves and other sanitizing items are also available:

Lobbies will be open for student pick-up and drop-off only

with the following exceptions:
Parents who are joining an assessment.
One parent may wait in the lobby for clients with special needs if deemed essential to the process by the adaptive teacher or therapist
One parent per child participating in a Family Classes
Following private lessons, designated debrief areas have been established

in each facility for 1-2 minute debrief. Group classes may be debriefed by email.
After contactless check-in (see below), parents and caregivers may wait in your cars, or in additional seating provided near the entrance of each facility
"CONTACTLESS" CHECK-IN & CHECK-OUT

To comply with county orders, every lobby has a touchless check-in, including a health verification as well as a hand sanitizer station. Instructions are posted there. Using a QR reader or bar code scanner app will make this process even easier, but you may access the following web page directly if you prefer: Contactless Check-in site
From there you may choose your location (or go directly with a QR code reader).
It will ask for your email or phone number and the number of visitors who will remain in the building (i.e. students)
It will ask you to confirm you have not been in contact with, or exhibit any symptomsof, Covid-19 and that's it!
When you leave, simply rescan the QR code or revisit the web page, and it will ask you if you are ready to leave, say yes and you're done!
NOTE: The next time you come, it will remember your device when you scan it so check in will be even easier! Find ideas for QR code readers here.
FACILITY & SAFETY PROTOCOL HIGHLIGHTS
Here are just some of the highlights and additional precautions that we have taken to help insure safety:
Posted Safety Protocols: On every facility door you will see the extensive 5-page list of all the safety protocols upon which teachers and staff have been trained. The included Social Distancing Protocol (SDP) document indicates the frequency of cleaning and the currently suggested capacity & contact information. (You may view the SDP for the Main Office here.)

Some of these include:
All staff will wear masks, have their temperatures taken before teaching each day and complete health and non-exposure affirmations daily.
Additional keyboards in are available in piano rooms to allow teachers to give students keyboard demonstrations, while maintaining social distancing.
Additional receptionists have been

hired and trained to keep the building, equipment and instruments disinfected

and help as needed

Cleaning EVERY 30 MINUTES between every client:

Faculty schedules have been adjusted to accommodate cleaning of Instruments, doorknobs, switches and all other high touch surfaces between every client.
Toys and books have been removed.

Restrooms and/or front counter are equipped with extra disinfection wipes

and optional rubber gloves for use before and after touching hard surfaces in the restrooms.
NOTE: Since parents are not yet allowed in the lobbies, if your child is unable to use the rest room alone, please make sure they use a bathroom before coming to the facility.
ADDITIONAL PREPARATIONS for GROUP CLASSES

NO sharing! All small instruments for use during the class have been disinfected and placed in individual pouches for each student and will be disinfected after each use.
All larger "surveyed"

instruments will not be shared or passed

from one child to the next, but fun, safe alternatives are in place to allow exploration
All instruments will be

cleaned with hospital grade disinfectants

All high touch surfaces (like whiteboards) are cleaned before/after each class.
Student activity spaces will be marked off in each room
Extra rubber gloves and disinfectant wipes will be available for use by students who need them (i.e., after using the rest room) but receptionists will be available for the regular hourly disinfection during the day
Multiple white boards and markers are available for each student to use.
Schedules will be slightly adjusted to accommodate the extra time required for these protocols
The complete posted documents regarding our extensive compliance for our facilities with all county protocols (and more) is posted at each location.
Thanks again for trusting us with your children. We look forward to bringing more music in your lives during this challenging time.