We are so excited to be serving so many of you in person again!
Santa Clara County health officials have lifted restrictions on children's educational, recreational and camp activities (eff. 6/5/20). Also, as of the week of March 15, 2021, the CDC has adjusted the guidelines for safe social-distancing between children from 6 feet to 3 feet. Accordingly, we published our simple plan for gradual return and are enjoying seeing you again!
HOW DOES IT WORK?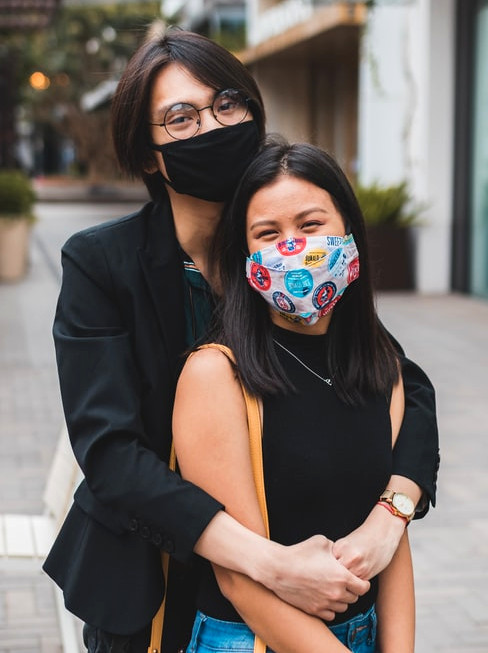 When parents and their children are ready to meet in person, our staff and facilities are prepared for you! We are enjoying seeing familiar faces as many have already joined us in person. We have missed seeing you!
We are not only following all county guidelines, but we are doing even more to help keep your family safe. As you return, here are our official policies:
Visitors are required to wear masks

with the following state or county specified exceptions:
Persons who are outdoors and maintaining at least 6 feet of social distancing from others not in their household.
Children under the age of two, and
Those who have trouble breathing, or
Those who are unable to remove a face covering without assistance
Persons who are obtaining a service involving the nose or face for which temporary removal of the face covering is necessary to perform the service.
Person for whom there is a mental health hazard for wearing a mask ( i.e. claustrophobia)
Hand sanitizing is recommended

for all who remain in the building (i .e., students) at the check in station. Disinfectant wipes, rubber gloves and other sanitizing items are also available:

Lobbies are now open to healthy families who have not been recently exposed to those who are symptomatic of Covid-19
Designated Debrief Areas
Following private lessons, designated debrief areas have been established

in each facility for 1-2 minute debrief. Online group classes may be debriefed by email.
"CONTACTLESS" CHECK-IN & CHECK-OUT (on hold)

We are no longer requiring contactless check in, but instead, if needed, will access teacher attendance through Pike 13 to verify visits in case someone informs us of a subsequent illlness. By the way, we are so grateful that this has happened only one time since we opened in June of 2020 .
FACILITY & SAFETY PROTOCOL HIGHLIGHTS
Here are just some of the highlights and additional precautions that we have taken to help insure safety:
Posted Safety Protocols: Upon request you may see the extensive 5-page list of all the safety protocols upon which teachers and staff have been trained. The included Social Distancing Protocol (SDP) document indicates the frequency of cleaning and the currently suggested capacity & contact information. (You may view the SDP for the Main Office here.)

Some of these include:
All staff will wear masks, and sit at a safe distance from their students.
Additional keyboards in are available in piano rooms to allow teachers to give students keyboard demonstrations, while maintaining social distancing.
Additional receptionists have been

hired and trained to keep the building, equipment and instruments disinfected

and help as needed

Teachers are disinfecting between every client:

Faculty schedules have been adjusted to accommodate cleaning of Instruments, doorknobs, switches and all other high touch surfaces between every client.
Toys and books have been removed.

Restrooms and/or front counter are equipped with extra disinfection wipes

and optional rubber gloves for use before and after touching hard surfaces in the restrooms.
ADDITIONAL PREPARATIONS for GROUP CLASSES

NO sharing! All small instruments for use during the class have been disinfected and placed in individual pouches for each student and will be disinfected after each use.
All larger "surveyed"

instruments with mouthpieces will not be shared or passed

from one child to the next, but fun, safe alternatives are in place to allow exploration
All instruments will be

cleaned with hospital grade disinfectant.

All high touch surfaces (like whiteboards) are cleaned before/after each class.
Student activity spaces will be marked off in each room
Extra rubber gloves and disinfectant wipes will be available for use by students who need them (i.e., after using the rest room) but receptionists will be available for the regular hourly disinfection during the day
Multiple white boards and markers are available for each student to use.
Schedules will be slightly adjusted to accommodate the extra time required for these protocols
Thanks again for trusting us with your children. We look forward to bringing more music in your lives during this challenging time.