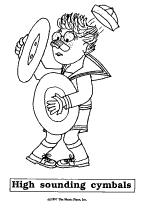 "My 4 year old son is currently enrolled in their EMA, Early Music Awareness class with Mr. Jack and loves it! Each week they learn about a new instrument. The class has fun musical games, dances and also incorporates music theory. At the end of each class, instructors give a brief overview to the parents of what they learned in class that day and sends the child home with color book print outs for the children to review at home.
Though parents do not join in the classroom, I can see my son from the waiting room area and I love seeing the joy on his face. I try not to let him see me, that way he is comfortable dancing and being silly without the feeling of my eyeballs on him.

What really sets The Music Place apart
from many others out there is their emphasis on a fun music education environment and experience. We all have seen children who put up a wall or start resisting because of the pressure to succeed in a particular sport or instrument. They will get enough of that academic stress as they grow older, especially living in the Silicon Valley where if "you're not coding by 5, your child is behind".
So I love, love that there is so much fun put into practice here.
My son has been asking for piano lessons and is eager to learn but he doesn't have the attention span to sit for 30 minutes and focus. He seems to be under the impression playing piano is like learning to ride a bike. And at his age, he wants immediate gratification.
The Music Place has classes where they incorporate some fun elements of EMA and learning a specific instrument. In my son's case, that would be piano. How terrific is this?!
If you have young children interested in music, please do not hesitate to check this place out. They currently have a Groupon promotion for their EMA class and it is now hands down the best Groupon I've purchased." -
~ Jennie N.