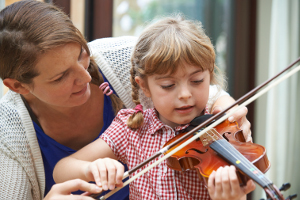 "I cannot say enough wonderful things about The Music Place.My daughter started the "All Arts" class with Teacher Valerie about a year ago at the age of 4yrs old & she looks forward to going to class every week. The teachers are nurturing, kind, and full of great information & fun.

She had a recital a few months ago & it was adorable. It was held at a convalescent home, and how darling it was to see all the residents light up when the children performed. Not to mention what a wonderful experience it was for the children to learn to perform & give to others.


The owner Janice, is full of lots of helpful information. She is very kind and knowledgeable with children. If you want, they can do an assessment on your child to determine what kind of learner they are. We found this extremely helpful & thorough.

We are thankful we found such a lovely music school for my daughter to blossom & feel like she is at home.
I recommend The Music Place to many of our friends & family."
~ Jill T.