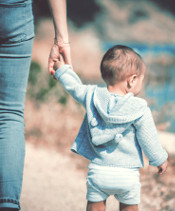 At The Music Place we recognize that the first five years of life are an extraordinary time, filled with wonder and exploration. It's in these early years that the path to future educational success is established. And music is an important stepping stone on that path....
In keeping with our philosophy of "fun first", children begin the music learning journey with Early Music Awareness, (EMA). This unique signature curriculum is designed in fun, age-appropriate steps for children starting at six months and is available as needed through age eight.
See a complete page by page description of Early Music Awareness groups: The Instrumental Path
Step #1: EMA Family Class
If your child is between 6 to 36 months you'll want to join this "pre-EMA" toddler-parent participation classes. These classes are a wonderful opportunity for a special time of bonding with your child in a warm, encouraging environment.
In addition to singing, movement and rhythm games, classes include symphonic and ethnic instrument exploration in which parents and children have the opportunity to handle and play real instruments and learn about notes in a fun 30-minute format. EMA Family classes are limited to six families. (Siblings enrolled in other classes attend at no charge.) See list of Current EMA Family classes
Step #2: Early Music Awareness Level I
Your young child (3-5 or 4-6 years) will gain a sense of independence by being a part of a small group of children (no more than 8 to a class) where he will be able to receive personal attention and have his individuality acknowledged and honored. In addition, children are prepared for future instrumental instruction by learning to read music and try potential instruments in an active, fun and exciting environment. Learn more about EMATM
Even as young as three years old, your child will be proud of her ability to identify notes and their values. And she will be excited to share with you the handouts she'll receive with every lesson. See list of Current EMA classes
Step #3: Early Music Awareness Level II
Available as an ongoing class, the next step for growing students may be EMA II. In this class, the theory and instrument exploration sections of EMA are combined in each class to allow students ages 5.5-7 to focus on specific instruments. In 4-8 week segments, they will learn to play actual songs on keyboard, flutophone, deskbells, ukulele and/or glockenspiel as they continue to learn to read music. Plenty of rhythm games, movement and singing activities keep the class moving in this older-child version of Early Music Awareness.