See a complete page by page description of Early Music Awareness groups: The Instrumental Path
To make sure instrumental learning is FUN, it is best if the young student functions developmentally (academically, socially and physically) like a 6-year-old regardless of their actual age. Since takiong piano lessons or learning an instrument is best done in a private lesson, the goal of these final steps, if needed, is to not only insure the child will enjoy learning an instrument, but also to help them choose the best one to meet that goal.
Step #4: Instrument Prep: EMA III
Children ages 6-8 who are either not yet developmentally ready for private instrumental lessons, or those who have not yet chosen a starting instrument join a 15-week session that helps them finalize and instrumental choice also provides focused experience using the keyboard to play small songs in order to develop eye-to-hand coordination necessary to begin on any instrument. The course is divided into two sections which may be taken separately: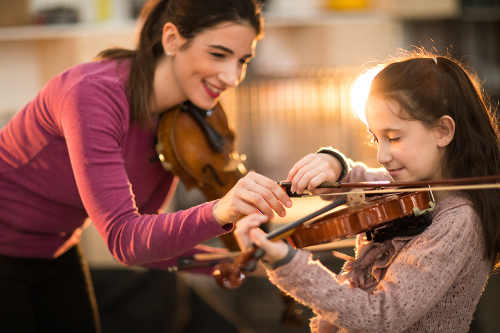 SECTION #1: Instrument Survey: The first 7-8 weeks, students enjoy a broad range of music instruction similar to Early Music Awareness but with a focus on note-reading and choosing the specific instrument that is right for them. They explore the 8-10 instruments that are size appropriate for them including (but not limited to):
Violin and Cello
Flute and Recorder
Guitar and Ukulele
Drums and Glockenspiel (like a keyboard played with mallets)
NOTES: These first 8+ instruments are presented in the order that works best for the class, location and teacher. Also, those with previous keyboard experience may take this part of the course without Section #2.
SECTION #2: Keyboard Overview: The final 6-7 weeks, students apply their growing note-reading skills using the keyboards provided. In this section, students receive an overview of the geography, technique and other playing skills needed to learn simple songs on the piano or keyboard -- a great preparation for playing any other instrument.
Upon completion of this class, most students are ready to move forward into private lessons and know what they want to do. (see below). If they are still unsure about the next step, a free phone consultation with an Educational Specialist is available to help the families navigate the next step for their child!
Step #5: Private Lessons
After moving through this fun, custom-designed learning path in which kids explore, enjoy, survey, choose and get passionate about their perfect instrument, private lessons are the best next step. This one-on-one experience ensures the best success because each child learns differently, and the lesson can be customized to his or her own learning.
Private lessons are available on almost every instrument and are best enjoyed when students function developmentally like a child 6 years or older (regardless of their actual age). If your child is under 7, an assessment will be a big help before moving forward. In a special time with you and your child, an Educational Specialist trained to help determine your child's developmental age (and readiness) in three areas: Academic, Social & Physical.
SPECIAL PACKAGES: Beginning with weekly 30-minute, one-on-one lessons, students are also eligible for special packages that add group vocal or instrumental classes for as little as half the normal group cost to help maintain the enjoyment and synergy of learning with others.
Ask about customized classes: These classes include Music Adventures (for students with Special Needs), Christian-emphasis classes, Level II Instrument Survey for ages 8+, Group Instrumental Ensembles & More